You've got a surefire idea. Maybe it's for a brand new business, or perhaps just a new product or service at your current company. Whatever it is, to make your dream a reality, you need a go-to-market strategy.
The go-to-market strategy is an action plan that outlines the steps an organization will take to launch its product in the marketplace, achieve its key value propositions, satisfy customers, and meet its revenue and profit targets. It helps define the ideal customers and specifies how a company will go about releasing a new product, promoting it, and ultimately selling it to its customers.
The following elements comprise a product's go-to-market strategy:
Methods and channels of sales
Training the sales and support team
Pricing strategy
Budget for product launch and marketing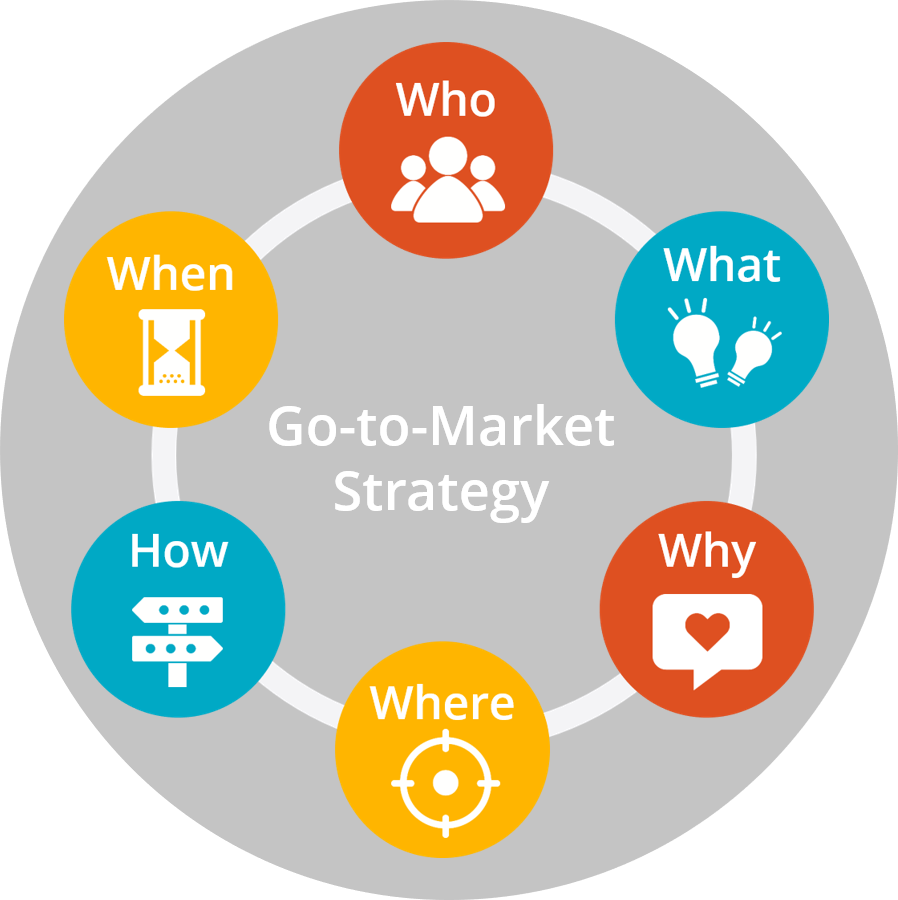 Benefits of Using GTM Framework
To introduce an innovative product to the public, a product team can create a go-to-market (GTM) plan that provides them with a tactical blueprint for all the steps they need to take externally. Businesses can benefit from developing a GTM strategy in the following ways:
It can reduce the time to market
Save costs on failed product launches
Provide a positive customer experience
Clarify the mission
Ensure a successful product launch
Reduce customer acquisition costs
Strengthens the company's capacity to tackle challenges
Guides the team throughout the process
Establishes a path for growth
Types of go-to-market strategy
There are two main types of go-to-market strategy: product-led market strategy and sales-led market strategy.
Product-led GTM strategies place the product at the core of growth, not just as a solution to a business problem, but also as a silent salesperson since they allow customers to buy, renew, and upgrade without leaving the product. This strategy uses the product itself to acquire and retain users.
In a sales-led strategy, the salesperson initiates and closes the sale. While the product features prominently in the sales conversation, the sale itself happens off-site. A sales-led GTM strategy uses marketing to drum up interest for a product, capturing it in content and demo forms.
Steps
Like any plan or strategy, you need to do a bit of research and digging before you can put a go-to-market strategy. Your GTM strategy covers a lot of information in a short, concise manner. So before you jump in and start filling out page after page, it's important to have a firm idea of what you're doing.
Define the target market: It is important to define a market in a way that makes sense for the strategy you are following. Markets can be defined as a certain sector, a job, a demographic, or a physical location.
Making the product market-ready: Though it's the job of the product strategy to explain the value the product brings and to whom, the go-to-market strategy goes deeper, explaining how to communicate these benefits in each market being targeted.
Pricing strategy: The price is one of the most important factors for new product launches. A great product can lose customers if overpriced, and if underpriced you might be leaving money on the table.
Reach and retain customers: The final part of an effective go-to-market strategy should take the prospect journey all the way through to sales closure, adoption, and future upgrades and renewals. The core of this phase is the sales and marketing plan, which considers the best channels to reach prospects with the value proposition.
Go-to-Market Strategy vs Marketing Strategy – What's the Difference?
At first, it may seem like the terms "marketing strategy" and "go-to-market strategy" have the same meaning. But in fact, there are subtle differences between the two.
A marketing strategy is a comprehensive plan formulated particularly for achieving the marketing objectives of the organization. It provides a blueprint for attaining these marketing objectives
A marketing strategy is designed by choosing the target market and gathering the marketing mix.
Marketing strategy is often associated with the marketing mix, also known as the 4Ps of marketing:
Product
Price
Place
promotion
While marketing strategy defines a broad approach to developing marketable items and delivering them to customers, go-to-market strategy delves significantly further into the strategies that will be utilized to deliver on distinct value propositions and build a competitive edge in the marketplace.
Who is responsible for creating a GTM strategy?
Since the methods or tactics used to help a product's launch are mainly marketing functions such as brand building, promotions, and customer awareness, it makes it the job of the marketing department.
But it is also the responsibility of the product department. After all, product management is ultimately accountable for the product's success or failure in the market, so the product team should collaborate closely with marketing to develop and implement a strategic go-to-market strategy for their goods.
The marketing team does not make go-to-market planning its top priority like the product team.
FitBit – An Example
FitBit is an American company that makes activity monitors. A few years ago, they launched Smart Coach, a premium service and personal training software that interfaces with the user's FitBit. The company began its GTM approach with simple goals, such as:
Subscription revenue growth
Increasing brand recognition
Increasing the attachment rate of subscriptions
To reach the target population, the "Get More With FitBit" campaign used both sponsored and owned media (which consisted of people who owned FitBit wearable devices and smartphones).
They also used push alerts, social profiles, and newsletters to reach out to potential clients. As a result of their approach, the firm generated almost $200 million in sales.
TaxJar's Killer Content Marketing Plan
Investing in content marketing is a tried-and-true method of raising brand awareness and establishing authority in a specific subject/industry.
TaxJar, a tax automation startup aimed at businesses, was fully aware of this and, as a result, focused heavily on content while developing their go-to-market approach. TaxJar, which began in 2013, brought the dynamic of automation into sales tax reporting and filing. To build their authority and seem like a trustworthy company to their target audience, the company decided to educate the world about relevant topics (mainly sales tax) and succeeded in building a strong authority over the subject.
They had the following two elements:
Educate the world on sales tax by creating and sharing easy-to-find and easy-to-understand content around sales tax
It focused on becoming a technology company rather than a tax company