The six stages outlined above will get your team through all steps of the process, from initial idea screening to the development phase.
Bringing your vision for an original new product to life is frequently one of the biggest hurdles for aspiring entrepreneurs.
However, it has become crucial for businesses to keep updating their products to conform to current trends. The business environment is dynamic and competitive, and new product development is one of the best ways to withstand competition.
What Is the Product Development Process?
Product development encompasses all steps to take a product from concept to market availability. It is the overall process of strategy, organization, concept generation, product and marketing plan creation and evaluation, and commercialization of a new product.
Product development requires the work and input of many teams across a business, including Development, Design, Marketing, Sales, Finance, and Testing. Product managers act as the strategic directors of the development process and oversee the progress.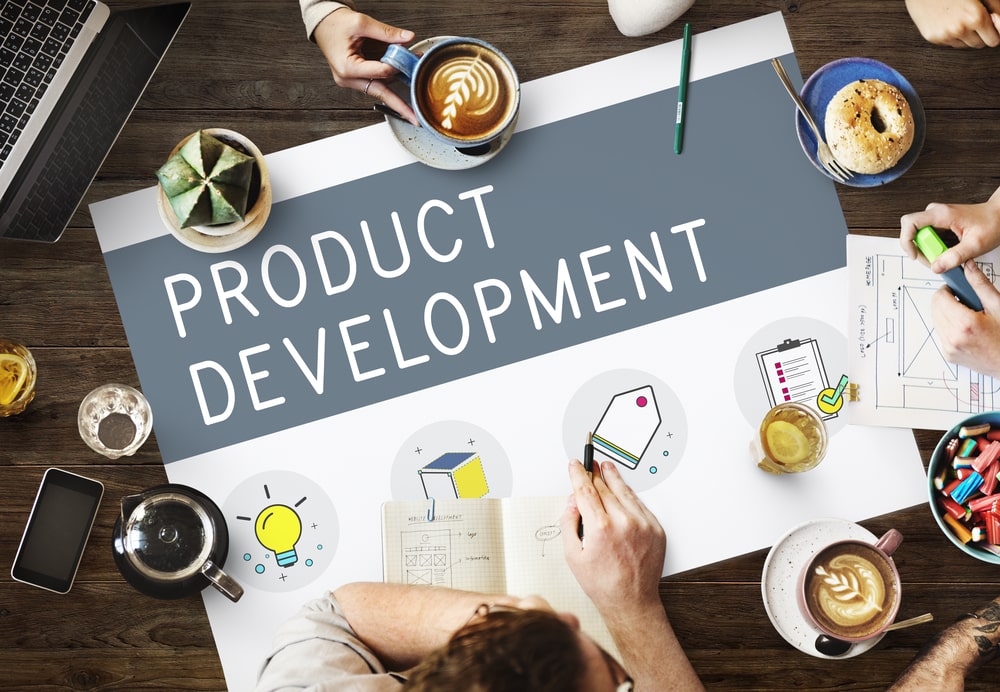 Approaches to Product Development Process
The product development process can seem almost mysterious. When you hear the origin stories of other successful businesses, the journey to a finished product rarely resembles a straight line.
There is no single way to work through the product development process. So you can use one of the various approaches depending on which one works for your business. Here are a few of the popular ones:
The Stage-Gate Model splits the development process into different stages, with a management gate acting as a decision-making process at regular points throughout.
The IDEO process focuses on engaging with the end-user and putting yourself in their shoes as you develop the product.
The Booz, Allen, and Hamilton (BAH) model is a carefully structured process based on management best practices that have been refined over the years.
With that background, let's now look at the most common stages in product development.
Steps of Product Development Process
New product development is a six-step process, beginning with generating ideas and progressing to marketing completed products. This process helps break down tasks and organize cross-departmental collaboration.
Ideation:
Everything begins as an idea. The initial stage of the product development process is generating new product ideas.
There are many good techniques for idea creation, including brainstorming, random association, and even daydreaming. You may want to generate a long list of ideas and then whittle them down to the one that appears to have commercial appeal.
If you're still looking for your aha! moment, we have put together a list of sources for generating your product ideas.
Research:
With your product idea in mind, you may feel inclined to leapfrog ahead to production, but that can become a misstep if you fail to validate your idea first.
In this product innovation stage, you brainstorm product concepts based on customer needs, concept testing, and market research. During this phase, when thoroughly researching the market for your product idea, check for the product-market fit and conduct a SWOT analysis. Analyzing your product strengths, weaknesses, opportunities, and threats can help you build the best version of your new concept.
Prototyping:
Now we get to a crucial step – testing your idea in a visual format for the first time. Typically, the designers will step in here to create a bare-bones version of your product so that you can convey the product idea in a tangible way to potential users.
You'll usually always find a mistake in your initial design or come up with a new function to include. Before you dive headfirst into a new business, take some time and a few extra steps to test your idea. Consider getting their feedback to make sure you're on the right path with your business.
Final Product Development:
Product development entails the actual design and manufacture of the product. This step of the process is where you transform your low-fidelity prototypes into high-fidelity versions – adding in colors, interactions, images, and the like. During this step, you seek to differentiate your product from its competitors.
A successful product design may take several iterations to get right. It may also involve communicating with distributors to source necessary materials.
Costing:
After the research, planning, prototyping, and sourcing, you should have a clearer picture of what it will cost to produce your product. Costing is a business analysis process where you take all information gathered thus far to estimate the cost of goods sold (COGS).
Once you have your total COGS calculated, you can come up with a pricing strategy for your product and subtract the COGS from that price to get your potential gross margin, or profit, on each unit sold.
Marketing and Promotion:
Now that you have a ready-for-sale product, it's time to promote, market, and distribute it. At this point, a product development team will hand the reins over to marketing for a product launch.
A product launch helps grab the customers' attention. They will discover the new product and learn about your company and possibly other products. It is also an opportunity to turn interested individuals into loyal customers. The increased exposure will get more customers to buy your products and bring more revenue.
Conclusion
New product development (NPD) is a core part of product design. The right product development process can help you streamline each step with organized tasks and team collaboration. The six stages outlined above will get your team through all steps of the process, from initial idea screening to the development phase. The process doesn't end until the product life cycle is over. You can continue collecting user feedback and iterate on new versions by enhancing or adding new features.