Like in cards, when it comes to starting a business, an entrepreneur must know when to hold them and when to fold them.
One of the biggest differences between successful startups and those that fail is how soon they begin confirming that real demand exists for the product they're offering. If you want to make sure you're in the minority of startups experiencing consistent growth, give yourself the best start possible and make sure you have market fit before shipping the product. Keep reading to learn how to ensure a strong product-market fit.
What is Product-Market Fit?
The most simplified definition of product-market fit is in the name: your product fits into the market, is where it is supposed to be, and you grow your business because of it.
Product-market fit is when your customers become your salespeople. In business, it is a magical moment when three things happen:
Existing users recognize your product's value.
They tell others about their great experience with the product.
Your company replicates the excellent experience for the new users.
After all, the end goal of likely every business is to provide enough value to customers that they become your advocates and help you grow your customer base.
Product-market fit is a well-known idea in the startup community. It refers to a situation in which a company's target consumers buy, use, and tell others about its product in sufficient numbers to keep it growing and profitable. It is the degree to which a product satisfies strong market demand. Product-market fit happens when you successfully identify your target customer and serve them with the right product. 
How to Measure Product-Market Fit?
In theory, you may test product/market fit through surveys that determine what proportion of your consumers consider your new product to be a must-have. However, product-market fit is more about an in-depth and realistic grasp of who your consumers are and how they feel about you and your product than it is about hypothetical statistics and percentages.
Is it creating organic growth, where people spread the word on their own? Are people willing to pay for your product? If they are, you have a product-market fit.
Your product/service will most likely satisfy a tiny part of the market as a startup or early-stage firm. If you want to acquire this knowledge in the first place, you must first establish a relationship with your consumers and communicate to them (over and over again).
Who is Responsible for Creating a Product-Market Fit?
We usually link product-market fit with product management and marketing, but, in reality, achieving it is a company-wide effort. All departments contribute to the company's achievement of this significant milestone, including sales, business development, support, and finance.
The Importance of Product-Market Fit
Paying attention to market fit, sometimes called product-market fit, is what keeps us from selling dentures to people with teeth or snow shoes in the deserts of Rajasthan.
Like in cards, when it comes to starting a business, an entrepreneur must know when to hold them and when to fold them. In this regard, we cannot overstress the importance of product-market fit for entrepreneurs.
Product-market fit is important because, until that point, you don't know whether or not what you are building solves a real problem that a large enough market has. Without clarity on this, you could continue investing in building something that is not commercially viable. Worse still, you could burn cash by hiring prematurely or investing in sales and marketing that will not generate a return (premature scaling is often cited as one of the main reasons startups fail).
The effort of confirming product-market fit has several upsides, many of which go beyond avoiding the time, expense, and raw pain of backing a poor idea. Benefits include:
You gain the opportunity to make changes and serve a real need in the market.
You gain a valuable tool that you can use to attract investment.
Confirming your assumptions is great for morale and can motivate you to keep going when things get tough.
If you have an in-demand product, you will have an easier time finding business funding that can help you accelerate your company.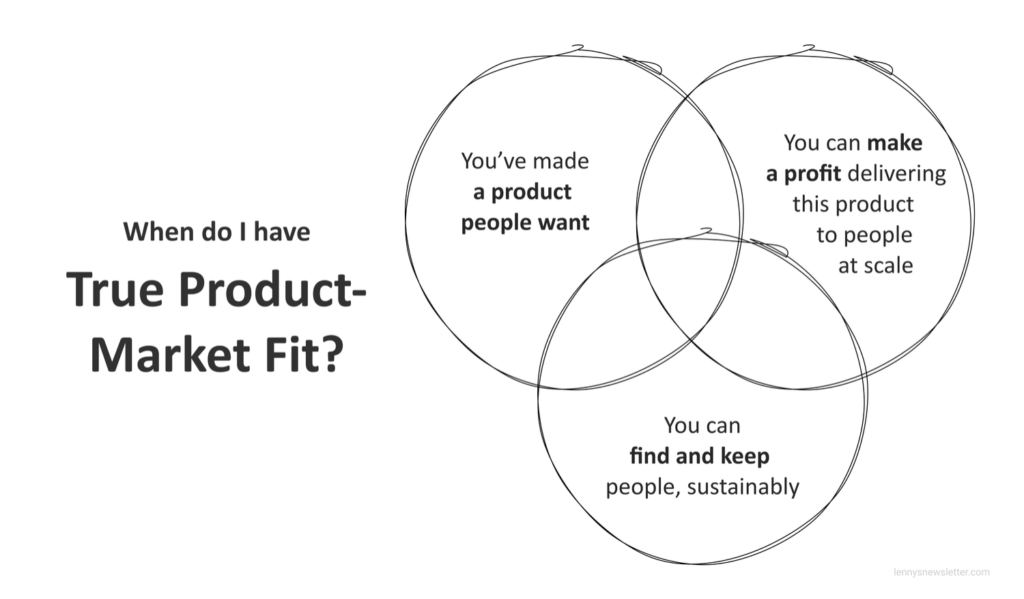 The Downsides of Poor Market Fit
Failing to challenge your assumptions is highly risky. So, here are some downsides of a poor market fit.
Burning money and wasting time: However passionate you may be about your product, the sad truth is that potential users may not feel the same. Learning that sooner rather than later saves you resources (time, as well as the treasure) to pursue a project that can succeed. Give yourself that opportunity.
Wasted potential: Your product might have been transformative with just a few adjustments. However, by not doing the research and analysis to ensure a good market fit, you deny yourself the information you need to make vital changes (which might be small) to your product or target market that could lead to astonishing success.
Lack of a clear business case: The startup market is highly competitive. While it's hard to quantify, there are potentially thousands of competitors for each segment of the market who are hungry for the funding they need to put rockets under their enterprise. So, when you go to an investor, don't bring a knife to a gunfight. Instead, have real research in your pocket that shows you're a winner, or be prepared to lose out to your better-prepared competitors.
Conclusion
Building a business is hard. Knowing you're on the right path is motivating. When it's good, it's good. You can see your way to the finish line, believe in yourself, and have every confidence that your hard work will pay off.
We hope you found this guide helpful. Now it's time to turn that knowledge into business results.